by Ricardo Small
Not really a "monster" this species of reptile is one of the most memorable to see while visiting the Buenos Aires National Wildlife Refuge.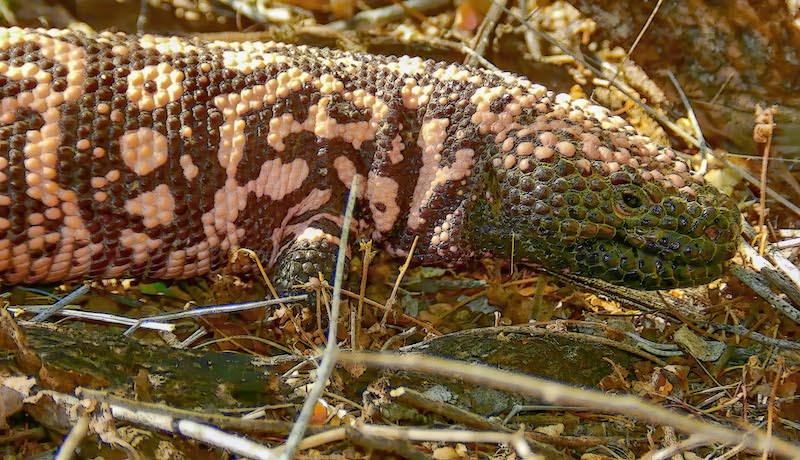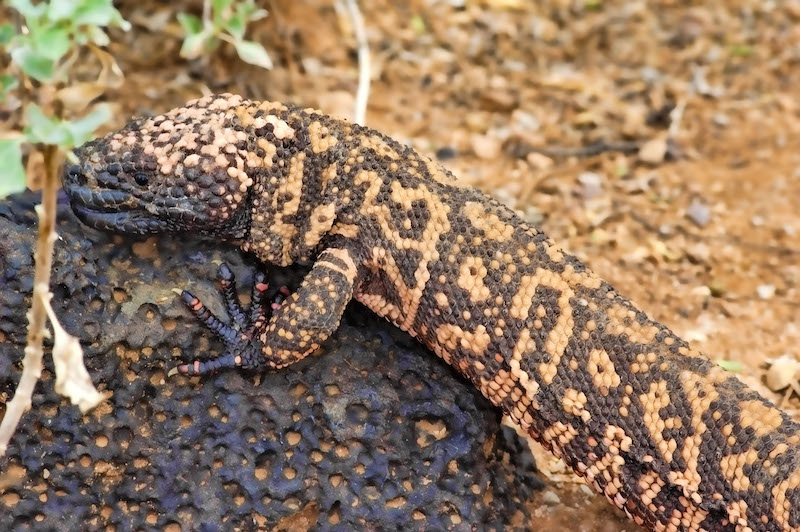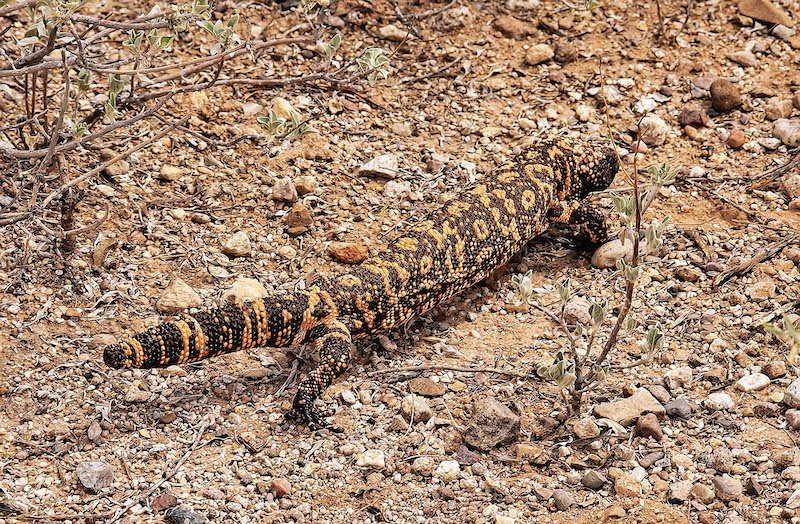 Gila Monster on the DOUGLAS SPRINGS TRAIL Saguaro National Park in Tucson on 13 Apr 2013
GILA MONSTER 2 in the Rincon Valley AZ 13Aug2008 by Ricardo Small
GILA MONSTER 1 in the Rincon Valley AZ 13Aug2008 by Ricardo Small
Highly colorful, Gila monsters are easy to see when they're above ground. That's not very often. In their book titled Gila Monster Facts and Folklore about America's Aztec Lizard, Dave Brown and Neil Carmony describe the color as "… Halloween-hued skin the texture of Indian corn …" Most of the time, Gila monsters are in underground burrows. They find food in the underground nests of prey species like cottontail rabbits. Since this lizard is cold blooded, the more stable underground temperatures are attractive to them, more so than the hot summers and cold clear air of winters in Arizona.
Heloderma suspectum is the scientific name. According to Brown and Carmony, this species is North America's largest and only poisonous lizard. It is the only reptile to have armored hide and the only lizard with a forked tongue like a snake's. Their book is full of information including entertaining folklore. For example:
The Tohono O'Odham people, who live over to the West of Baboquivari Peak, explain the origin of the bright colored and textured skin. During the first saguaro wine festival centuries ago, the people invited all the animals. Since everyone wanted to look their best, the animals donned their most handsome garb. The Gila monster gathered bright pebbles and made a coat that was durable and beautiful – a covering still worn today.
Gila Monster Facts and Folklore about America's Aztec Lizard (First Edition: 1991) is still in print and is available at your usual bookstores. David E. Brown is adjunct professor of biology, Arizona State University. Neil E. Carmony is formerly a chemist with the U.S. Geological Survey.
Dave and Neil are friends of mine. I met them in the late 1960s. Dave worked for the Arizona Game & Fish Dept back then. Neil was involved in the same environmental group that I was 50+ years ago. Since then, Dave and Neil authored and edited many books about nature, among other topics. Their writing is based on decades of experience with wildlife and provides great information for our enjoyment. I recommend their Gila Monster book. It is one of the best sources of information about this iconic species.